What's in the News
Skatepark related news from Knoxville and around the region.
Knoxville Skateparks: Skating Ahead
Fountain City skatepark plans glide forward while Knoxville's park gets a one-year evaluation
Wednesday, December 10, 2008
Winter weather notwithstanding, January will be a big month for skateboarders in Knox County. It should see the city issue construction bids for the planned Fountain City Skate Plaza, the second of at least four planned "satellite" parks supplementing the larger, centrally located Knoxville Skatepark in Tyson Park. Meanwhile, the main park will undergo a scheduled one-year evaluation, on the cusp of the anniversary of its opening in February 2008.
The evaluation will likely result in several tweaks, both to the park's facilities and to its policies. One possible change is the implementation of an admission fee—to pay for ongoing improvements, and possibly for an attendant—though that measure doesn't appear to have support from the city.
Knoxville Parks and Recreation Director Joe Walsh announced on Dec. 5 that the city has chosen local engineering firm Cannon & Cannon to flesh out the Fountain City park's design specs—hashed out by the Fountain City Skate Plaza Task Force with some gratis help from local architect David Collins—and prepare the project for bidding.
Walsh says the Fountain City park, with $103,000 of funding, including $50,000 from the city, should break ground in March. "We'd really, really, really like to cut the ribbon and get it open before school is out on May 22," Walsh added. "So the kids have some place to go when summer starts."
The park will be set on a two-acre spread between Maple Drive and Fair Drive in Fountain City. The skate plaza itself will be 5,000 square feet (compare with nearly 20,000 for the main park at Tyson), and will include a variety of street-skating features—boxes, ramps, stairs, rails—as per the preference of local skaters.
When first announced, the Fountain City park drew murmurs of complaint from a few area residents. Walsh says planners have worked to address their concerns and those efforts seem to have allayed any lingering fears.
"We had people worried about traffic, about noise, about crime—stuff you hear any time you open a park of any kind," Walsh says. "It's understandable, but a lot of it is knee-jerk. We've moved the park further up Maple, on the commercial side of First Creek, and created a good buffer of green space. No one has called and complained in months."
With the larger Knoxville Skatepark having entered its eleventh month, Walsh says both the public and the city have been mostly pleased with its operation. It was recognized by the Tennessee Recreation and Parks Association as the state's Best New Facility in 2008. And on a nice weekend, even in cooler weather, Walsh notes that "people are lined up all over the plaza, ready to skate. It's been really well received."
Still, there have been a few persisting problems, including a lack of helmet use. The city passed an ordinance in 2008 that made skating without a helmet a misdemeanor offense punishable by a $50 city court citation, but some skaters ignore the risk.
"Litter has been one of the biggest problems," says Walsh. "We're trying to put in more trash cans, and educate the kids. Overall, we're trying to give everyone a sense of ownership: 'Hey, this is our park.' And for the most part, I think that's what we're seeing."
"There have been some simple problems, the kind you see at most parks," says Pluto Sports owner Brian Beauchene, a longtime skater himself who led the charge for building the Knoxville Skatepark. Beauchene was also recognized by the Tennessee Recreation and Parks Association in 2008, receiving an award for Outstanding Volunteer Services.
"The problems we've had have been mostly littering, some graffiti, smoking, cussing, and some lack of helmet use," Beauchene continues. "There's also been some self-policing, which is good—some skaters who will come in with black spray paint to spray over the graffiti. And we've had one group come in on Sunday nights to pick up litter."
The park's one-year evaluation will include plans for touch-ups, such as repair for hairline cracks in the concrete. Also on the agenda will be planned Phase II improvements, which call for new streetscape obstacles on the outskirts of the park, and increased accommodations for parents and onlookers.
Policy-wise, some of the community's older skaters have suggested the possibility of implementing an admission fee, which could help pay for an attendant to monitor helmet use and behavior. Beauchene notes that several cities charge admission at their public skateparks—usually in the $2 to $6 range for one-day admittance, with monthly and annual available at a lower rate.
Knoxville Skate Park Task Force member Jason Oaks has two children—13-year-old Cal and 7-year-old Gillian—who enjoy using the park, sometimes two and three times a week. And though Oaks, a skater himself, gives the park high marks for its first year, he now supports hiring an attendant and implementing a fee.
"I was against it at first," he says. "But when we visited some parks down in Atlanta, the nicest one we saw had an attendant, and a $3 admission for locals. Nobody went without a helmet, and if somebody fell, they were right there. I'm in favor of 'pay to play.'"
Walsh, for his part, favors keeping the park free to all comers. "I don't feel very strongly about [having an admission charge] since we built it with the idea of having a free skate park," he says. "The idea was tossed out there, and I'm sure we'll bring it up. But it's too early to call."
RESPECT YOUR SKATEPARK!!!!!!
The Parks Dept. can shut down the skatepark at any time, for any infraction of the rules. Just a few weeks ago, there was some problems with someone defacing the pool coping, and thanks to the Knoxville Skatepark Task Force, the problem was cleaned up and we were just barely able to keep the city from shutting down the skatepark. Next time we might not be so lucky. Just a reminder to everyone, Vandalism, including graffiti, stickers and tagging, is illegal.
So, if you see anyone painting, tagging or otherwise vandalizing the skatepark, tell them to stop and report them, or the park will be closed down. Remember, it may be you or your friend that gets the park closed for EVERYONE, and I sure would not want to be that guy.
The Cops are coming!!!
Helmet, Behavior Crackdown
Due to the on going efforts by a few who refuse to obey the posted rules at the skatepark, the city has hired KPD to run extra patrols through the park. This will mean $100 tickets for those who insist on not wearing helmets, smoking, littering etc. There have been lots of tickets written, several arrests, and even a few parents who have been cited for the behavior of their kids.
Next time you're at the skatepark remember to follow the rules so that we can keep the park open for everyone. If you see someone who is not following the posted rules, that maybe the person that will be the one to get everyone kicked out of the park. Remember to keep the park clean, wear your helmet, and be courteous to other park users. Many people and skaters have worked very hard to get a skatepark in Knoxville, and a small group is trying to ruin this for everyone. We were lucky enough for them to give us a skatepark, and they can just as easily take it away.
Knoxville New Sentinal Article 5/25/08
5-7-08
New park's skaters flying high
Crowds at 3-month-old facility mean expansion may be in the works
By Samantha Thornton, news@knoxnews.com
Wednesday, May 7, 2008
Samantha Thornton/Special to the News Sentinel
Jason Mallette rides his skateboard at the Knoxville Skatepark in mid-April. The facility in Tyson Park, which opened three months ago, is so popular that an expansion is already under consideration. The park cost the city and county $547,000.
Samantha Thornton/Special to the News Sentinel
Brian Beauchene, owner of Pluto Sports and a member of the Knoxville Skatepark Task Force, rides in April at the Tyson Park facility. "We've got to get this place expanded soon," he said.
It's been open for just three months, but officials already want to expand the Knoxville Skatepark.
"The biggest problem we're having at the skatepark is too many people showing up," said Brian Beauchene, owner of Pluto Sports and a member of the Knoxville Skatepark Task Force, which guided development of the facility at Tyson Park.
"We've got to get this place expanded soon because we're having huge crowds there all the time," Beauchene said.
As many as 200 skateboarders and bikers can be found on Saturday afternoons, with skaters waiting in line to roll along the ramps, banks and bowls.
The crowds present a particular challenge to beginners, since it was designed to accommodate intermediate to advanced skaters.
"They've got a skateboard, they've got a helmet, they're ready to go, but they've never ridden it," Beauchene said. "We're going to have to provide some facilities for even these novice skateboarders."
The current park was designed and built by California Skateparks, which has developed more than 130 such parks around the country. It's on the grounds of the former University of Tennessee Lady Vols' softball field just west of campus and cost the city and county $547,000.
"For what it is, I think it's great," said skater Bryaen Fribourg, who's been to larger parks, such as one in Louisville, Ky. "I like the atmosphere, the old baseball-diamond feel. We've got the scoreboard still up here. It's kind of a nice aesthetic."
Future parks and expansions will be funded and designed locally, and task force members hope a beginner-friendly area can be developed by summer's end on the surrounding concrete where the bleachers were located.
City Parks and Recreation Director Joe Walsh said the cost would be minimal since existing concrete costs less to convert into skateable space.
The city plans parks in other parts of town, including one in Fountain City being supported by the Fountain City Town Hall, private donations and business contributions. Walsh hopes that North Knoxville park will be open by the end of summer.
Police also are enforcing a helmet law passed by the City Council shortly after the Tyson facility opened. It requires all users to wear a helmet or face a $25 fine.
"We knew from the beginning it was going to be difficult to enforce," Walsh said, based on other communities' experiences.
Concern was expressed in the park's first months about so many teens and young adults congregating without supervision, but Beauchene said, "The skate park is designed to be unsupervised so that we don't have a baby-sitting service there by the parks department. What we have there is a sporting facility where we want some of the responsibility (for) the use of it on the actual skaters themselves."
The park is open 9 a.m.-9 p.m. daily, except when it's raining.
"It could be bigger," said Andy Cornell, a local skater and computer-aided designer. "There are a lot of skaters and bikers in this town and we could use some extra space."
Mayors Open Knoxville Skatepark


February 1, 2008 - Mayor Bill Haslam and Knox County Mayor Mike Ragsdale helped open the long-awaited Knoxville Skatepark today.

The 15,000-square-foot park, which includes urban terrain like rails, ramps and ledges, is located on what had been the infield of the University of Tennessee Lady Volunteers Softball Stadium in Tyson Park.

Work on the $537,000 skate park designed by Wally Hollyday, began after an August groundbreaking.

"This is a day that a lot of folks have waited a long time to see," Haslam said. "This is a great example of the good things that can happen when governments and citizens work together to turn a dream into a reality."

"We're opening a great skate park that is going to bring a lot of joy to so many athletes and performers who haven't really had a venue for their sport," he added.

The City of Knoxville and Knox County each provided $200,000 for the project while Lamar Advertising gave $100,000 toward its construction and the Tony Hawk Foundation added an additional $25,000.

Local skaters and supporters added another $12,000 to the park's construction.

The idea for the park has been around for several years and local skateboarders had engaged in an intense lobbying campaign supporting it.

Landscaping work around the exterior of the park is incomplete but both Ragsdale and Haslam wanted to move forward with the opening because the surface is ready for skaters.

Skaters were already lining up outside the gates more than an hour before Thursday's 4 p.m. opening.

"This is going to be a wonderful place for both the young and young-at-heart skateboarders," Ragsdale said."This is something the county and the city and a lot of people have worked hard to make happen and we're very pleased to open this park."
Ready for boarding
Knoxville Skatepark's grand opening ramps up city's cool factor
Jim Miller, news@knews.com
Friday, February 1, 2008
Knoxville Mayor Bill Haslam, at lectern, recognizes Spencer Shuemaker during opening ceremonies for the Knoxville Skatepark in Tyson Park on Thursday.
Amy Smotherman Burgess
Knoxville Skatepark task force member Nate Holder takes a turn as others gather to watch after opening ceremonies for the 15,000-square-foot facility in Tyson Park on Thursday.
The official opening of Knoxville's newest skatepark Thursday was important enough for Tipton Dunn to purchase a new skateboard.
"I bought (it) yesterday," the 21-year-old said.
With his new board in hand, Dunn joined more than 100 other skateboarders and local officials at Tyson Park for a ribbon-cutting ceremony that opened the Knoxville Skatepark, a 15,000-square-foot lighted facility that boasts stairs, rails, ledges and ramps up to 10 feet high.
And after brief comments from, among others, Knoxville Mayor Bill Haslam and Knox County Mayor Mike Ragsdale, the skaters got a chance to use their new facility.
The city of Knoxville and Knox County each funded $200,000 of the park's $537,000 price tag. Lamar Advertising Co. contributed $100,000, and legendary skateboarder Tony Hawk's foundation gave $25,000. Private donations accounted for an additional $12,000.
"This is a classic example of what you can do (when residents) work together," Ragsdale said.
The park is free and open to the public 8 a.m.-9 p.m daily. The hours may be expanded in the summer. Skateboards and BMX bikes are welcome, but helmets are required, officials said.
Wally Hollyday's California-based firm, which has designed more than 100 skateparks across the country, developed the Knoxville Skatepark - a dream come true for local skateboard enthusiasts.
"It's been a long process," said Brian Beauchene, owner of Pluto Sports and a member of the Knoxville Skatepark Task Force.
Beauchene approached city officials about a skatepark nearly 20 years ago.
"This skatepark has to work for everybody," Beauchene said. "The skaters have to like it. The parents have to feel comfortable with its safety. The city has to be comfortable with maintaining it."
Beauchene said he thinks all of those goals were accomplished.
"We've got a beautiful product," Beauchene said as he watched several skaters roll across the facility. "We've outdone the skateparks in Asheville, Nashville and Lexington. We've got our youth skating in a place that is safe."
Knoxville City Councilman Chris Woodhull, who co-chaired the skatepark task force, agreed.
"As much as I am excited today, how we got here was also exciting. A lot of young people participated in the process," said Woodhull, who also enjoys skateboarding.
"(This skatepark) is just hip. Our city needs to be hipper."
Like Woodhull, Caleb Vance, 14, said the skatepark is "cool."
"All my friends are going crazy," he said. "We needed (this skatepark)."
Knoxville Mayor Bill Haslam, at lectern, recognizes Spencer Shuemaker during opening ceremonies for the Knoxville Skatepark in Tyson Park on Thursday.
Knoxville Skate Park soon to open

October 27, 2007
By MELISSA DiPANE
6 News Anchor/Reporter
KNOXVILLE (WATE) -- It's been years in the making but now the Knoxville Skate Park is one step closer to opening.
This week crews will fill the skate bowls full of concrete and begin the transition.
The park is situated in Tyson Park on the site of the former UT softball field off Alcoa Highway.
Years of fund raising and pushing for the city and county to embrace the idea of having a skate park has finally paid off.
The skate park will be a centerpiece of Knoxville's skate park system. Smaller parks can be found in Concord and Fountain City.
The Tyson Park location will be the granddaddy of them all offering beginner, intermediate advanced and pro bowls.
It will give skaters like Jason Mallette a place to hone his skills.
"Everywhere you go you get kicked out, hassled. There's really no place to go right now the only place is that little place in Concord," says Mallette.
Brian Beauchene is a 30 year skateboard vet and understands the skater's plight.
"We need a place designed for skate boarding and its safe to do it maybe go pro someday," says Beauchene a Knoxville Skate Park advocate.
The park could be complete by December or January.
The skate park is a public private partnership.
Though it might appear dangerous, the Consumer Products Safety Commission ranks it twice as safe as riding a bike and four times safer than swimming in a pool.
There are 10 million active skate boarders nationwide supporting a $700 million dollar industry.
Park supporters hope some of that money will soon be spent here in Knoxville.
Aug. 9 2007

-

Groundbreaking


--------------------------
WATE


Ground broken for Knoxville's new 15,000 square-foot skatepark



KNOXVILLE (WATE) -- Officials broke ground Wednesday for Knoxville's new 15,000 square-foot Skatepark.
The park, including stairs, rails, ramps and ledges, is being built in Tyson Park, at 2351 Kingston Pike. It will be free and open to the public.
Construction on the $537,000 project is expected to last three-to-four months so the park could open by late fall.
The skatepark is being built by designer Wally Hollyday, whose California-based firm has built more than 100 skate parks across the U.S. Click here for a look at the design plan.
The city of Knoxville and Knox County each provided $200,000 for the project. Lamar Advertising gave $100,000 and the Tony Hawk Foundation kicked in an additional $25,000.
Individual supporters and groups also donated several thousand additional dollars.
Local skateboarders have engaged in an intense lobbying campaign to support building the park.
In 2005, Knoxville Mayor Bill Haslam included the $200,000 appropriation for a skate park in the city's 2006-07 budget. County Mayor Mike Ragsdale soon matched that in the county's budget.
"Kids didn't have a place to skate," said Brian Beauchene, a skateboarder who owns Pluto Sports in a press release, "and this provides a place for kids to skate where parents are comfortable with them skating."
Beauchene also said the Knoxville Skatepark will draw skaters from across East Tennessee.
The city says the skate park is expected to grow over time. The groundbreaking Wednesday was only for the first phase.

--------------

KnoxNews-Sentinal
Less wait to skate
Free skatepark being built at Tyson Park to be done by end of year
JOHN SHEARER
news@knews.com
Thursday, August 9, 2007
Knoxville Mayor Bill Haslam, left, and City Councilman Chris Woodhull don helmets during groundbreaking ceremonies Wednesday for the new Knoxville Skatepark. Formerly the field used by the University of Tennessee Lady Vols softball team, the $537,000 facility should be completed before the end of the year, officials said.
Skateboarder Jay Cabler, a member of the Knoxville Skatepark Task Force, walks by a row of shovels after groundbreaking ceremonies Wednesday for the new Knoxville Skatepark at Tyson Park.
Karns High School junior Caleb Scott — an avid skateboarder — was definitely excited Wednesday at the groundbreaking ceremonies for the new Knoxville Skatepark at Tyson Park.
He thinks local business owners and government officials who have worried about skateboarders being a nuisance or damaging property should be overjoyed as well.
"I think it is definitely a positive thing," he said. "It gets the skaters off the street."
Scott and other young skateboarders sporting T-shirts rubbed elbows with elected officials clad in Oxford shirts and silk ties Wednesday during ceremonies marking the start of construction.
To be built on the softball field used until this spring by the University of Tennessee Lady Vols softball team, the $537,000 facility should be completed before the end of the year, officials said.
The 15,000-square-foot park — which will be free for users — will feature stairs, rails, ramps and ledges as well as other amenities. The builder is noted skatepark designer Wally Hollyday of California, who spoke briefly at the ceremony.
Funds for the skatepark have come from the city of Knoxville, Knox County, Mike Fleming of Lamar Advertising, the Tony Hawk Foundation and private donors.
"This is a day a lot of people have waited a long time to see," said Knoxville Mayor Bill Haslam, who addressed the gathering along with Knox County Mayor Mike Ragsdale, UT Women's Athletic Director Joan Cronan, and various park and government officials.
Brian Beauchene, who runs the Pluto Sports skateboarding shop behind the Cumberland Avenue Strip, said he first went to city officials about a skatepark in 1988.
Although the process was slow — and delayed a year after UT officials said the new softball stadium closer to campus would not be ready until next season — Beauchene said he never lost hope.
"I really didn't feel it was not going to happen," he said. "It was just a matter of when."
City Councilman Chris Woodhull, who co-chaired a skatepark task force with Knox County Parks Director Doug Bataille, said the planning process was interesting because it brought different groups together.
"To have young people (skateboarders) part of the democratic process is extraordinary," he said.
--------------------------------------------------------------
Skating not a crime at GoExpo event
By Dave Ford
D.Ford@TheKnoxvilleJournal.com



Display tents were widespread and filled with every piece of information one could ask for including DVDs, pamphlets, live demos and flyers at the GoExpo event held at Victor Ashe Park on May 12.
The purpose of the outdoor recreation event was to give the Knoxville community a chance to try out some of the products and programs that select businesses offer around town.

                                                                                                                                                                                                 The tents were set up in a mainstreet sort of fashion and fittingly enough, the Pluto Sports mini skate park was set up away from everything else — just as the sport of skateboarding is in every day life. Skating is not just a sport, it's a movement toward getting kids off the streets and into skateparks, one of which is due to finalize construction in Knoxville around late November of this year.
Brian Beauchene, longtime skater and owner of Pluto Sports skate shop, located on Cumberland Avenue, was the organizer of the makeshift skatepark set up for kids of all ages from eight to 38 to show off their skills on the blacktop. Beauchene is also a member of the Knoxville Skatepark task force that has plans for three phases of skateparks to pop up around the community over the next few years.
"There will be skateparks on each end of town," said Beauchene. "There will be one in Powell, Fountain City, Chilhowee Park and one somewhere in south Knoxville. The small skateparks on each end of town will be for beginners and intermediate (skaters) and then the big skatepark, Tyson Park, will be beginner, intermediate and advanced."

Beauchene also said he's been working on the planning of these skateparks for 20 years, and his days in the skate scene go back to the old school days when the equipment was no worse than terrible.
"I've been skating since the 70s when boards had terrible metal wheels and all that kind of stuff," he said. "There used to be skateparks in Knoxville at that time, but they all went out of business. And during the 80s and 90s there really weren't any good skateparks here." When a business owner does what he does because he loves it and not for the greenery, it's always refreshing to hear — Beauchene is one of those guys. "I sell skateboards because I am into skateboarding, not like to get rich or whatever," he said.
"I do it because I love it, it's what I do and it helps a lot of kids get good quality stuff that they wouldn't be able to get otherwise."
Safety at the makeshift skatepark was taken very seriously by Beauchene, who said while he didn't expect anyone to suffer a serious injury out there, it's always best to proceed with caution.
All skaters were required to wear helmets and chin straps if they wanted to show their stuff. "I don't expect anyone to land on their head out here, but it's better to be safe than sorry," he said.
"In a public event like this we've got to put on the right image and show people we're serious about it. And the city of Knoxville is going to be really adamant about any skating event or public park that helmets are always going to be required." Beauchene's stance on helmet use was a serious one, especially when talking about young kids that could possibly suffer a life-changing injury without the proper protection. "You know, one kid landing on his head and scrambling his brains and being messed up the rest of life is just not worth it," he said. "And the helmet is just a small price to pay. You don't like helmets, I'm sorry, but wear one and skate, and enjoy it."
For more information on Pluto Sports go to www.plutosports.com and to find out more about the Knoxville Skatepark projects go to www.knoxvilleskatepark.com.
Skateboarders protest bill
Ashe Smith - Staff Writer
Wednesday, April 18, 2007 issue
Skateboarders and BMX bikers, targets of a recently passed Freshman Council bill, said they are disappointed with the student government body's legislation as well as the university's neglect of their sport. The bill, passed at the Council's March 29 meeting, is an attempt to lower the noise pollution at Presidential Courtyard. As stated, the bill will enforce the quiet hours of 9 p.m. to 9 a.m. at Presidential Courtyard. Management of the bill has been passed to the Department of University Housing. The bill's sponsor, Kendall Downing, said Housing should control the situation. "It will go to Housing, and they will have to figure out how to enforce it," Downing said. Along with giving responsibility to University Housing, the bill will also ban BMX bikes and skateboards after Presidential Courtyard is renovated. The renovation is part of the University of Tennessee Campus Master Plan, which seeks to revive the campus community and push for a more pleasant campus. But skateboarders and BMX bikers said they feel the bill was a direct attack on their sport. Skateboarder Zachary Widgren, a freshman in studio art, said he knows skateboarding and BMX biking often create noise but that UT does not offer the proper facilities for the sports.
"You have to remember the fact that UT has not done anything for (skateboarders and BMX bikers). We have different facilities to house basketball, tennis, basically any sport you can think of," Widgren said. Widgren said he and his friends skate in the evening as a means of relieving the stress they experience during the day. The bill is unfair because he has to drive at least half an hour to reach the nearest skate park, he said. Why couldn't they invest in possibly building something, even if it is a few ramps? If they did, then they could have bragging rights and pull in a more diverse group of students," Widgren said.
Lee Bowie, a sophomore in graphic design and a fellow skater, said there is a stigma against skateboarders. A few isolated instances have caused massive retaliation against skaters, he said. UT does not have a skateboarding or BMX biking club, and Widgren and Bowie said they do not have the time to start one. "I would join a club if there was one. I always thought it would be cool," Bowie said. Currently, UT does not have a skateboard facility incorporated into its Campus Master Plan. The City of Knoxville does.
The Knoxville Skatepark will be located at Tyson Park, past Cumberland Avenue and beside the Metron Building UT recently purchased. The Tony Hawk Foundation is still in the process of fundraising for it. The Knoxville Skatepark Web site says a total of $535,000 has been raised, and the plan is to bring the amount to $1 million. Some of the current fundraising for the park includes T-Shirt sales, contests, corporate sponsors and personal donations. Once completed, the park will be the biggest of its kind in Knoxville and surrounding areas. The park will invite skaters from the UT campus and from all over the city to use its facilities during designated hours. Widgren said he is excited about the park, but still wishes UT would build a small park on campus. "There will be kids everywhere and it will close at 10 p.m., which is the normal time I skate," Widgren said. The park is set to break ground this summer.
Judges flip for high-schoolers' skateboarding documentary
A primo project
By CHANDRA HARRIS, harrisc@knews.co
April 24, 2007
Their ramp antics are raising eyebrows.Central High School skateboarders are conquering cracked concrete staircases and their railings - while holding video cameras. Their skater video won "The Line" Student Audio Visual Film Festival's Best of Show and Best High School Documentary in January. The accolades keep coming for Clayton Lee, Joe Nunez, Angel Ibarra, Megan Shirk and Andrew Tirado.They won Gold Key and American Visions awards from The Scholastic Arts Awards, which qualifies them for a national competition this summer in New York. They made a trip this past weekend to the Nashville Film Festival, where they entered another national competition.The five-minute film, "Skateboarding in Knoxville," might be their ride to college if they decide to pursue film studies at Pellissippi State Technical Community College. Pellissippi is offering each a full scholarship of $25,000. They have also been offered $2,000 and $1,000 of yearly renewable aid to attend to attend either Carson-Newman College and Nashville's Watkins College of Art & Design, respectively.Clayton Lee and Joe Nunez are still doing the same thing they did before the awards came - skateboarding. Holding a camera and capturing a stunt is a tactic they honed before even knowing about the East Tennessee Television & Film Commission's "The Line" student competition, which was created last fall to showcase the work of Knox County students in grades 6-12. About 175 students from 10 middle schools and 11 high schools participated. Editing their stunts for the film came easy. Interviewing public officials about how they feel about skateboarding, to present a point/counterpoint segment for the film, was the hard part.
"Interviewing someone for 45 minutes and then trying to find that perfect sentence to include was difficult," said Nunez. The filming crew looks back at its award-winning film and sees what could have been done differently. "We can watch it, and I can point out things I would have edited or shot differently to make the film better," Lee said. The Central sophomore said the crew of friends is working on an hour-long skateboarding film.Looking to refute stereotypes and snide remarks about skateboarders, Lee said, "We work really hard at our sport, and it takes creativity and hours of trial and error."Trial and error has left Lee with three broken ankles and Nunez with a broken arm.Nunez and Lee said skateboarding is a passion many can't understand "until you try it and watch others. Then you get hooked."
Board Certified
New skatepark in Concord heralds the larger one to come.
By Mike Gibson/ Metro Pulse 1-18-07
It's hard to figure what's a weirder sight on this Sunday afternoon on the western end of Northshore—the eerily warm January weather that has lured a herd of kids out to the cluster of rec facilities just past Concord Park, or the fact that a huge portion of those youngsters are skaterats, all baggy pants and wallet chains and emo tees. That's right: skateboarders, brazenly boarding in public, rolling and jumping and swooshing around on their sturdy little wooden and fiberglass steeds, happily oblivious to any notion that their hobby has never really been accepted as a proper pastime for the youth of Knox County by the Powers That Be.
But the sort of attitude that has traditionally cast skaters as delinquents and scofflaws hereabouts may be on the verge of changing, with the unveiling of the county's first public skatepark in Concord. Just opened in December, the 2,500-square-foot skating area next to the field hockey court on Northshore is the first of a series of planned satellite skateparks, heralding the much larger public park that will begin construction near the University of Tennessee this summer.
"There's been some confusion, when people see the new park in Concord and they think, 'Is that it? Is that the big skatepark they've been talking about?'" says Brian Beauchene, Pluto Sports proprietor and a leading skatepark advocate. "The answer is no; the really big one is still coming. But the one in Concord is important, because it marks the first time ever in Knox County where we can say, 'This is where you can go and skate, and not worry about getting in trouble for it.'"
As a member of the eight-man Knoxville Skatepark Task Force, Beauchene worked with city parks director Joe Walsh, county parks director Doug Bataille and Knoxville City Councilman Chris Woodhull in studying skate facilities in other cities to figure how to best serve the area's long-suffering skateboard aficionados, who have traditionally been hassled for skating in public by police and property owners alike.
"We figured that if we just had one big park in the downtown area, then smaller kids without access to transportation won't have as much opportunity," Beauchene says. "They can learn to skate out here; then as they become older, they can come downtown."
The median age at Concord on this particular afternoon looks to be around 16 years old, but there are older skaters, too, including a 30ish guy with shrub-like muttonchops and fading sleeves of tattoos and ear expanders the size of caster cups. And many of the visitors today don't live in West Knox, either; local skaters have been so starved for a sanctioned skating area that even older, more experienced boardsmen are trekking out to Concord, which is by design a small, beginners-oriented park.
"It's not great, but it's way better than what we had before," says 24-year-old Alfred Bautista, a longtime skater who came here this afternoon from his home in South Knoxville. "We had nothing before, and when the big one opens, we'll have the best."
Bautista pauses to look out over the placid lakeside vista, and adds, "and it's such a nice view here. It's sick."
"Our research shows that the trend is to have several small satellite skateparks in addition to a large, central one," says county parks head Doug Bataille. He says the new Concord park, operated by the county, cost about $50,000, split evenly between surfacing expenses and ramps. It's free to the public, open daily from sunrise to 10 p.m.
Beauchene notes that its layout and positioning—the skating surface is wide open, and readily viewable from Northshore—makes for easy supervision. "It's not hidden away somewhere it can't be watched," he says "'Cause sometimes, kids will be kids."
But the youth who show up at Concord look to be serious about their skating—they're either skating, or intently watching their fellows do so; there's not much "hanging out" going on this day. And even though it's mid-winter, the park has been hella busy for the whole of its brief existence—over 1,500 visits in three weeks, by Bataille's count. "Too many skaters showing up has been the only problem so far," Bataille chuckles.
Next up is a satellite park in Fountain City—still in the planning stages, to be operated by the city of Knoxville. Also under consideration are satellites in Powell and South Knoxville, Bataille says.
And of course there's the big one, the $500,000, 20,000-odd-square-foot anchor park that should break ground in Tyson Park around mid-summer, and host its first skateboarders sometime next fall. Beauchene notes that construction was set back a little from a previous timetable because the University of Tennessee Lady Vols Softball squad is currently using the site until a new softball field is complete.
Beauchene says park officials have settled on a final plan from noted skatepark designer Wally Hollyday, a veteran of more than 100 similar skatepark projects, and whom Beauchene calls "the best designer in the world for the money we're spending."
With only a few, small changes pending, Beauchene says the final design calls for a mixture of beginner, intermediate and advanced skating options, from "street" features like stairs and ledges to traditional skatepark reservoir bowls. To use skater's parlance, the new park will include "curbs, funboxes, stairs, rails, eurogaps, banks, bowls, freeflow areas, and vert."
"This plan suits everyone," Beauchene says. "It passed the skaters' vision for a good park; the Public Building Authority guy said it was structurally sound; and the parks directors liked the value for the money spent."
A dyed-in-the-wool skaterat himself, Beauchene is borderline effusive when he ladles praise on the process that has given local skateboarders their first sanctioned public park. "I'm especially proud of our parks guys for the work they've put in, not just signing the checks," he says. "They've done their research. If you don't, you end up with a park system that's more trouble than successful.
"Just like a lot of the kids, I'm a little bummed that it hasn't happened sooner," he adds. "But for a government project, this whole thing is moving along pretty well. I'm real happy with everything else—the design, the builder, the work they've put in. We're going to have not just a good skatepark, but an exceptional skatepark, with good satellites on each end of town."
If skateboarders tire, they'll have a dugout
By BRAD WILLIAMS, williamsbr@knews.com
January 12, 2007
A traditional pastime is making way at Knoxville's Tyson Park for a newer sport this year.
Skateboard park architect and builder Wally Hollyday showed city officials his design for transforming a Tyson softball field Thursday. He has been involved in creating more than 100 skate parks, including Nashville's, and has 15 in the works.
"Our designer is a world-class designer," City Councilman Chris Woodhull said, and Hollyday will bring a crew from California to do the work.
The roughly 15,000-square-foot skate park will fill the infield softball diamond. The rest of the field, except the bleachers, will remain for picnicking and relaxing.
"I like the idea of leaving the dugouts for the kids to hang out in," Walsh said, and the designer has included a raised home-plate feature where the plate now rests.
Joe Walsh, deputy director of the city's Parks and Recreation Division, said construction might begin in July and take three to four months.
"It's a lot of fine concrete work," he said. "What they do is very specific, and it has to be just right. We've heard a lot of horror stories about misconstructed skateboard parks."
Hollyday said the park will have a variety of features.
"Skateboarding is all about skating different terrain and adapting to that kind of terrain," he said.
Hollyday's design includes lots of curvy ramps on one side, with urban-style ledges, stairs and rails on the other.
That makes the new park similar to Nashville's, but Hollyday said, "In my mind it's worlds away from Nashville."
The design is one reason the Tony Hawk Foundation just gave its largest award, $25,000, to the effort. Hawk is a professional skateboarder.
The park is expected to cost about $500,000 - $200,000 each from the city and county, $100,000 from Lamar Outdoor Advertising, and about $10,000 from city special-event revenue.
More street-style features might be added outside the softball field, and Woodhull said he would like to double its size.
Knoxville Skatepark Auction
Metro Pulse 10/5/06
With about half of their $1 million goal gleaned from donors, the Knoxville Skatepark is teaming up with Chocolate Shores to host a photography auction to continue making a dream become reality. Bid on the wry, witty works of William Wegman, who's best known for his outlandish pictures of man's best friend. The radiographic imaging of Don Dudenbostel will also be there, if you're not a dog lover. And, if you happen to dig hyper-real subjects placed in strange, near-noir settings, then Julie Buck's photos, which were often inspired from classic cinema, will feed the need. For this auction, the sheer range of photographic styles is weighty indeed.
Go to www.knoxvilleskatepark.com/events.asp to get a sneak peak at some of the photographers whose works will be auctioned.
(Kevin Crowe)
Ideas sought to retool parks
Skateboard area first project city, county working on together to improve system
By MATTHEW CHIARO, September 21, 2006

Skateboarders use nearly any place they can find to practice their skills.
They race through neighborhoods, jump stairs in front of shopping centers and scale courtyard benches.
One of the projects the Knoxville and Knox County parks departments are working together on is to give skateboarders their own place to ride.
Both parks departments have helped develop Knoxville's parks, greenways and recreational areas, but mostly on their own. During the next few weeks and further into the future, that's going to change.
Beginning tonight, the two departments are holding a series of eight public meetings, all in different locations around the county, at which citizens can help determine park improvement and development plans.
City Parks Director Joe Walsh said working on projects with Knox County Parks Director Doug Bataille makes sense because people use both park systems anyway.
"We're basically providing the same service for the same group of people," Walsh said. "Basically, the parks are for everyone."
Each meeting will cover issues relating to the area where it's held. The first meeting is tonight at the Knoxville Expo Center on Clinton Highway.
At the meetings residents will have an opportunity to voice opinions about future development of city and county parks.
Citizens who attend will be told the number of existing parks and where they're located. They will then break into groups and answer questions' relating to what likes or dislikes they have about parks.
"You hope there's going to be some consistencies," Walsh said. "We've got to take care of what we have currently in the system."
Through the meetings and an online survey found on the Metropolitan Planning Commission's Web site, www.knoxmpc.org, three to four weeks will be spent gathering input, Walsh said.
"I think people are going to want these larger regional parks," Walsh said, referencing parks similar to ones such as Victor Ashe Park where a wide variety of recreational activities are available to the public.
There are close to 150 established parks and greenways throughout Knoxville and Knox County.
It's hoped that construction will begin in a few months on a new skate park recreation area in Tyson Park near the University of Tennessee, Walsh said. Both city and county departments are funding the project.
Plans for the skate park include 14,000 square feet of concrete with ramps and bowls for skateboard jumps and tricks. Walsh added that a group of experienced skaters have been involved in the planning process.
Walsh said that in addition to constructing the skate park, design plans are under way for a Knox/Blount Greenway that is planned to be ready for use by next spring. The greenway is intended to ultimately run from one county to the other.
7/13/06
Knoxville skatepark delayed
The park was supposed to open in just a few months.
Plans to build a skatepark in the city of Knoxville have been delayed by up to one year. The city and county have earmarked $500,000 to build the facility, which will eventually call Tyson Park home. The plan was for the UT Women's Softball team to get a new stadium. The skatepark would then occupy the Lady Vols old home at Tyson Park.

Joe Walsh of the Knoxville Parks Department said that plan is still "a matter
of when." But, he the new softball stadium may or may not be ready for the
start of the 2006-2007 season. As a result, construction can not begin at
Tyson Park because the Lady Vols may need the venue for practices or games.

"The skatepark we build here is still going to be an awesome park," Skateboard Shop Owner Brian Beachene said. "It may just be delayed a little bit."

Those trying to build the park hoped to start construction June 1, with the
project finished by October. Now, construction will not start until at least
2007, with construction time a minimum of 90 days.

"They got some momentum going," Walsh said. "Losing that momentum is hard. It's just difficult to keep that momentum going

Walsh said there is no danger of local funds being lost due to the delay.
Backers of the park have been working on several fundraising projects to
enhance the park, but say those efforts could take a hit because people will
not be able to see the finished product as quickly as first thought.

Beachene and others are working to install temporary ramps at other area parks while the delay runs its course. He said skating in public spaces on gear not designed to handle skateboards is dangerous to the skaters, annoying to some business owners, and illegal in some parts of the city.

"Those problems are persisting for the community," Beachene said. "That's not a good thing."

"I can certainly sympathize with the kids," Walsh said. "A year or six months is a lifetime."

Watch the Video

Dan Farkas , Reporter
WBIR

Tyson Skate Park
Behind schedule, but finally legit
6/8/06 - MetroPulse
Construction on the long-anticipated public skate park, originally announced to begin this week, has been delayed at least four months. The skate park is still planned to go into the space at the northeast corner of Tyson Park the UT women's softball team has been leasing from the city for years, but the softballers are now moving to UT's athletic complex on former ag-campus land across the river. The UT women's softball team, until Sunday a contender for the national title, decided they needed to return to the Tyson softball field for practice in the early fall.
Mayor Bill Haslam's spokesperson Amy Nolan says they expect work, to be done by well-known park designer and builder Wally Hallyday of California Skate Park, to commence in October, to be completed, depending on weather, in early '07.
The project signals a sea change in the city's attitude toward what some claim is America's fastest-growing sport. About a decade ago, a prominent civic leaderupon retirement offered a grim warning to his assembled peers about the danger of tolerating skateboarders, who he said were destructive of downtown buildings and a hazard to the elderly. Around the same time, city council voted to ban skateboarding from Market Square. Later, some noted ruefully that before the massively refurbished World's Fair Park was properly open, its marble features were already showing the wear of skateboarding.
To non-skateboarders, the idea of the city paying to build a skate park might have had the feel of paying ransom. Or, at least, a way to keep kids off the street and out of bigger trouble.
City Councilman Chris Woodhull, leader of the inner-city youth group Tribe One, sees it more as a positive amenity for the city.
"It's important symbolically, where we're going as a community," he says. "To me, Knoxville building a skate park is one of the signs that we are growing up as a city." Woodhull, a middle-aged guy who has learned to skateboard seemingly to understand the phenomenon, is convinced of the civic value of a skate park.
"It's one of the safest sports," he says. That may seem counterintuitive to those who've seen skateboarders sailing through the air high above hard concrete surfaces. Woodhull insists, "Risk-management assessments say it's safer than baseball and football."
"But right now there's no legal place to skate." Larger cities like Nashville and Louisville have public skate parks; smaller cities like Chattanooga and Asheville do, too. Knoxville doesn't.
He has heard estimates that there may be as many as 20,000 skateboarders in Knox County. That may be high, but they certainly number in the thousands. "What I find is all this enthusiasm from people, rich, poor, masters in planning and guys who want to work on refrigerators for the rest of their lives, all interested in building this skate park."
Some have raised concerns about the location chosen by a city-sponsored task force co-chaired by Woodhull. The well-kept diamond at Tyson Park works well as a softball field. Woodhull says they mulled over other sites, especially a ruined industrial area along the banks of Second Creek below the interstates known to downtown artists as the Spaghetti Bowl and to illegal skateboarders as "the Spot." The existing concrete there, Woodhull says, is "silky smooth." It also offers a certain amount of urban/subversive credibility.
But Woodhull says the railroad that owns most of that area wouldn't sell. "We wanted a site already owned by the city—and known to people in Knoxville." The softball field about to be abandoned by the Lady Vols at Tyson Park seemed to fit the bill.
Providing local skaters with a place to practice their sport is an urban amenity, but the economic benefit to the city may come from the skaters it draws from outside of the region.
The fact that it's near an interstate exit was also important, Woodhull says. "People think of Knoxville as the city you go through," he says. Nashville's skate park currently draws about 2,000 visitors a week. (Such a skate park in Knoxville would outperform the convention center much of the time, and might seem a relative bargain.)
So far, the city and county have each chipped in $200,000; Lamar Outdoor Advertising has contributed another $100,000. Woodhull says with about $400,000 more, the skate park could be one of the biggest skating draws in the Southeast. The task force is working on raising that amount from private sources.
"We're learning from their mistakes," says Woodhull. "Ours will be better than Chattanooga, Nashville, Asheville. It will be a very well-designed skate park.
"Every community needs a bow tie," Woodhull says, an extra that completes the picture. "This skate park can be our bowtie."
—Jack Neely
Plans Announced for Knoxville's First Skate Park
From the Knox County website, April 10, 2006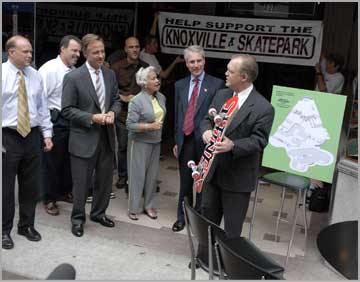 Knox County Mayor Mike Ragsdale and Knoxville Mayor Bill Haslam have announced details about Knoxville's first public skate park.
The 20,000-square-foot complex will be near Tyson Park on the current site of the University of Tennessee's women's softball field and is scheduled to be ready around August 1st.
The Skate park is a community project funded by Knox County, the City of Knoxville, corporate partnerships and individual donations. The Legacy Parks Foundation is assisting with the fundraising efforts.
The Legacy Parks Foundation held a Skateboard Art Auction downtown. Local and national artists were asked to donate an original work of art painted on a blank skateboard deck. Forty one-of-a-kind skateboard decks were auctioned to the highest bidder.
City Councilman, Chris Woodhull and Knox County Parks and Recreation Senior Director, Doug Bataille are co-chairs of the Skate park Committee. "Our committee includes a number of young people who are themselves avid skateboarders. They have been very involved in the process, advising on many aspects of the skate park", says Woodhull.
World-renowned expert, Wally Hollyday and California Skate Park, have been selected to design and build the park.
Now, avid skaters have to travel to parks in Nashville, Chattanooga and Louisville, Kentucky. If another $500,000 is raised, the complex could be doubled in size and complete for national competitions to be held here.


Tyson Park Selected for Skate Park
From the City of Knoxville Website , April 10, 2006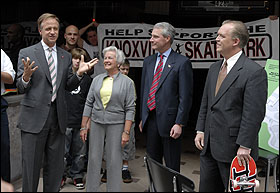 Knoxville's first park for skateboard enthusiasts will be located in Tyson Park on the current site of the UT women's softball fields, officials announced.
Construction of the 15,000-square-foot complex is expected to begin June 1. Wally Hollyday of California Skate Park, who has designed many municipal skate parks, will serve as architect and builder.
The City of Knoxville and Knox County governments have each contributed $200,000, and Lamar Outdoor Advertising has donated another $100,000.
The Skate Park Committee held a news conference Friday, April 7 prior to a "skateboard art auction" to raise additional money for the facility.


Skateboard Exhibit
By Metro Pulse
March 20, 2006
They've become synonymous with subculture in many ways. Back in the '70s, when the Lords of Dogtown first shredded a concrete pond near Venice Beach, it was something totally new. And so, it freaked out many old people. The new exhibit in the big window at Yee-Haw Industries—the quirky, innovative Mecca for all things hip—showcases some of the more distinctive examples of skateboard design.
These aren't the clunky, fat-wheeled and poor-quality boards sold at K-Mart for cheapskate poseurs to buy; each board on display is an inimitable reflection of individuality and an undeniably inspired monument to the weirdness of American ingenuity. Even local poet/singer/songwriter and apparent subculture aficionado R.B. Morris has a board on display. Rad! (K.C.)
Skateboards • Thru March 18 • Yee-Haw Industries (413 S. Gay St.)

Wheels rolling on first city-county skate park
Facility that should be open by summer in Tyson Park a result of new local nonprofit
By MICHAEL SILENCE, silence@knews.com
March 6, 2006
The first city-county skate park will be in Tyson Park, and it should be up and running by late summer.
It is a direct result of a new foundation and fund-raising effort set up by the city of Knoxville and Knox County, said Doug Bataille, director of Parks and Recreation for the county.
The two governments have set up the nonprofit Legacy Parks Foundation to raise funds for the more than 100 parks and other public facilities in Knox County.
The formation of the foundation allows the parks to get grants from private foundations that don't normally give to governments, Bataille said.
It also allows the foundation to go after grants without spending public money, he said.
The foundation, which hired Sandy Hull as executive director, is studying the successful Oglebay Foundation in Wheeling, W.Va., which has raised more than $85 million since its formation in 1945.
Hull has worked with the Boys and Girls Clubs of the Tennessee Valley since 1991, most recently was vice president of corporate relations and marketing, and was tournament director for the Knoxville Open.
"Oglebay is a great model of how an entire community can benefit from private support of a public park system. We know we have equal parks and recreation enthusiasts in our region and now have a way to let them become involved in the preservation of their investments," Bataille said in December when the foundation was formed.
Late last week, board members of the foundation met with an official from Oglebay to hear details on how it works and how to seek private donations and grants.
Because the local foundation is a 501(c) 3 nonprofit, it is easier for private entities and individuals to donate to than to government entities, Bataille said.
The local foundation already has received $100,000 from Lamar Outdoor Advertising for the skate park.
Bataille said the park is in the early design phases and should be open by late summer. He said Tyson Park provides a great location because it's on a bus line and a greenway trail.
People can get more information on the foundation by calling 865-215-6600.
Knoxville getting a skatepark
Skateboarding is one of the most popular sports for boys, but in Knoxville there's been no safe place for kids to skate. Matt Parton of Halls has a skateboard, and he and his friends have to practice in a culdesac.

"We always watch them when they're down there," says Jama Campbell, Matt's mother. "It's still not really safe. I think a skatepark in Knoxville is long overdue."

But now, it seems its time has come; both the city of Knoxville and Knox County have approved money in their budgets ($250,000 from the County, $200,000 from the city) to build the new skatepark that could open by this time next year.

Parks and Recreation leaders from Knoxville and Knox County are scheduled to go to Nashville next week to check out its skatepark for ideas.

"We're going to tap into their resources so we won't be having to reinvent the wheel, and see what they've done and see if we can match or surpass their facility," says Joe Walsh, the deputy director of the Knoxville Parks and Recreation Department.

Brian Beauchene who owns Pluto Sports, a store that sells skateboards, got a petition going in support of a local skatepark nearly two years ago, after a child was killed riding a skateboard on a Fountain City street.

"We'd like to see a place where kids can go, where they're not gonna get run over, they won't be out on the streets, they won't be getting in trouble skating where they're not supposed to be," says Beauchene.

Knoxville's skatepark will be located in an existing city park in a central location. Beyond that, no one's sure where it will be or what it will look like, but that should be figured out by the end of the year.

Last updated: 6/29/2005 7:13:58 PM
---
Work begins on Kingsport skate park
Friday, April 29, 2005

By MATTHEW LANE
Times-News
KINGSPORT - The Scott Adams Memorial Skate Park is one step closer to becoming a reality.
Earthwork began Thursday morning at Cloud Park - the site where the new skate park is to be built. "This is the earth-moving part of the project in order to get the site ready for construction," said Kitty Frazier, Kingsport's parks and recreation director. "We'll be clearing out the old asphalt and prepping the ground in order to build the skate park." This first phase of the project is expected to take about three or four weeks to complete. Construction of the actual skate park will then begin and take between three to four months to complete. The third phase of the project - installing fencing between the park and Center Street and transition areas to the adjacent parking lot - will take place after the park is available for use.
Frazier said the city hopes to open the skate park by late summer or early fall and have a formal dedication of the park at that time. "It's pretty exciting to get started on it," Frazier said. "We're going to get this part of it done and really do the stuff people can see and understand. Right now we're just moving dirt, and it's hard to figure out what's going on."
Efforts to create a skate park in the Model City date back five years when a group of young people presented a petition to City Manager A. Ray Griffin Jr., asking that a park be built. A volunteer team was convened in September 2001 by Kingsport Tomorrow, and the project gained momentum in October 2002 when friends and family of Scott Adams began raising money to build the park. Adams, 13, was accidentally killed while trying to retrieve his skateboard from Stone Drive.
Since then $350,000 has been raised or allocated to cover the cost of the construction. Approximately $160,000 came from private sources. Kingsport allocated $150,000 and awarded a Community Development Block Grant of $40,000 to the project. The roughly 10,000-square-foot skate park will include two bowls - one is multi-depth and the other is 5 feet deep - a street course and an area for BMX bikes. Since the skate park is being built at an existing full-service park, rest rooms, a basketball court and picnic shelters are already located at the site.
When the project went out for bids last fall, the two bids came in higher than expected, which put the project in jeopardy. However, the Kingsport Community Foundation donated the needed $100,000 to make the project happen. The funds were raised through the Kingsport Renewal! The Spirit Campaign, a private effort to raise money for several community projects, which includes the new YMCA, the baseball and softball fields at Weyerhaeuser Park, and the new soccer complex in Sullivan Gardens.
City officials have said the skate park team is still looking for donations of cash as well as services so that additional features can be added to the park in the future.
---
Skaters stoked by park funding
By HAYES HICKMAN, hickman@knews.com
May 2, 2005
Local skateboarders say that with long-awaited plans for a city-county-funded public skate park moving forward, they'll spend a lot less time attempting tricks like jumping barbed-wire fences or ducking police patrols.Knoxville Mayor Bill Haslam offered $200,000 toward the project in his annual city budget proposal announced last week, an amount Knox County is expected to match soon. Those funds could go a long way toward legitimizing what local ordinances have deemed an outlaw sport, said Brian Beauchene, owner of Pluto Sports on Cumberland Avenue and a leader in the years-long lobbying effort for the park."It really frees up the Knoxville Police Department, to not be chasing kids around in a supermarket parking lot," said Beauchene, who insists that he and other skaters aren't trying to be troublemakers. "These kids are dedicating their energies and practice as much as any ballplayer." Joe Walsh, deputy director of the city's Parks & Recreation Division, agreed that the alternative athletes deserve the same status as those already served by existing recreation centers. "It's just a recreational facility like any baseball field or basketball court," he said. "I think there's a civic obligation to provide such a facility." Working with Knox County Parks & Recreation Director Doug Bataille, Walsh has researched skate parks in cities like Nashville, Chattanooga, Asheville, N.C., and Lexington, Ky., "and they're all heavily used," he said. Knox County Mayor Mike Ragsdale is expected to support the project in his own budget proposal to be announced Wednesday for the coming fiscal year. Once funding is secured, Walsh said he hopes to schedule a couple of public meetings with skaters and parents for feedback on what the park's design should or should not include. Requests for proposals would be issued after that to design firms that specialize in the concrete playgrounds. Although no final decision on the park's location has been made, construction could begin as early as next spring, he said. "Baring any unknown factors, we should be well into construction by this time next year," Walsh saidTyson Park near the University of Tennessee has been considered as a possible site. The ideal location would be centrally located, with good visibility and close access to public transit, Walsh added. Beauchene also applauded the idea of building the park near a bus route, which, in turn, could promote its own good habits among the primarily young crowd. "They learn how to use it just to go to the skate park, and then they know how to use it ? to go to the library or work, too," he said. "And at a skate park, there's no chance of getting run over (in traffic.)" Beauchene credited a concerted effort of e-mail petitions to city and county officials over at least the past three years for the first big step toward success. Likewise, he thanked City Council members like Chris Woodhull and Marilyn Roddy for their efforts at supporting the cause, as well as Haslam for being "a personal champion of getting kids off the couch." Still, "that's just a proposed budget," he cautioned. "It's not a done deal until we're skateboarding." But when and if the park eventually opens, Beauchene predicts twice the number of users as what's expected. "Wait and see whether, six months after it opens, they're not looking at expanding the parking lot."
---
Knoxville News Sentinel
6/19/2004
KNOXVILLE SKATEBOARDERS SEEK SKATEBOARD PARK
Avid skateboarders say Knoxville needs a skatepark for recreational and safety reasons. Last October a Fountain City child was killed on his skateboard when he was riding in the street and was hit by a car. Talented skateboarders put on a show in Market Square Saturday afternoon to draw attention to the need for a skatepark. Pluto Sports is circulating a petition to get the city and county to build one together. Many kids risk their safety and break the law by skateboarding in streets and parking lots because they have no where else to go. Brian Beauchene, who own's Pluto's skateboard shop says, "Some of the supporters are people who aren't necessarily fans of skateboarding but would like to see the kids getting out of their loading dock or out of their parking lot or whatever and go someplace else, because believe me, if we built a skatepark that was good the kids would be there and not the Kroger parking lot or bothering somebody else."
6/19/2004 5:51:57 PM
Reporter: Mark Schnyder
Article in Louisville Courier-Journal - 4/6/02
Article in The Tennesseen, Nashville- 7/30/03
Labour Day Contest in Asheville, NC - 9/6/04
WBIR - Knoxville Skateboarders seek skatepark - 6/19/04